The Joh.-Gutenberg University endeavors to ensure that all students are offered equal opportunity. This includes the design of the campus and its buildings. The vast majority of buildings are wheelchair accessible and ever higher standards of accessibility are implemented, especially with new constructions.
Following is a list of buildings, lecture halls, seminar rooms and media rooms to provide you with an overview on their accessibility. Should you have any further questions please contact us and if necessary we can arrange an individual tour.
Should a course take place in a room which is not accessible, too dark, too bright or in any other way unsuitable for you, please contact us and we will have it moved to another room.
Campus Map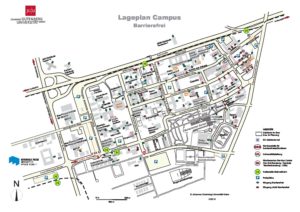 Buildings
Alte Mensa / Old Mensa - bldg. 1312
Alter Chemiebau / Old Chemistry Building - bldg. 1231
Altes ReWi / ReWi II - bldg. 1121
Biochemistry & Genetics - bldg. 1272
Botanical Gardens - bldg. 1421 - 1439
College for Music - bldg. 1175
Egyptology & Ancient Near Eastern Studies - bldg. 9133
Forum Universitatis - bldg. 1111
Georg-Forster-Building - bldg. 1137
Helmholtz-Institute - bldg. 1395
IMB (Institute for Molecular Biology) - bldg. 2432
Kreuzbau I (Physics) - bldg. 2412
Kreuzbau II (Maths / Computer Science) - bldg. 2413
Kreuzbau III (Biomedical Research Center) - bldg. 2422
Nat. und Med. Bau - bldg. 1321
Naturwissenschaftliche Fakultät (Faculty of Natural Science) & ZDV - bldg. 1341
ReWi I / Law and Economics - bldg. 1226
Sonderbau II (SB II) - bldg. 1331
Sports Grounds - bldg. 1521, 1522, 1531, 1532
Zentralbibliothek / Central Library - bldg. 1131
Zentralmensa / Central Mensa - bldg. 2312
Lecture Halls
HS 1 Biozentrum I / Bio-Centre I
HS 7, HS 10, HS 13, HS 14, HS 15, HS 16
HS I, HS II, HS III, HS IV, HS V, HS VI, HS VII, HS VIII, HS IX
RW 1, RW 2, RW 3, RW 4, RW 5, RW 6
Seminar Rooms
Seminar Rooms Biozentrum I / Bio-Centre I
Seminar Rooms Georg-Forster-Building
Media Rooms / PC-Pools / ZDV Classrooms