Anselm-Franz-von-Bentzel-Weg
Building number 1532
back to on campus orientation                                   back to menu bar
Sports Grounds Map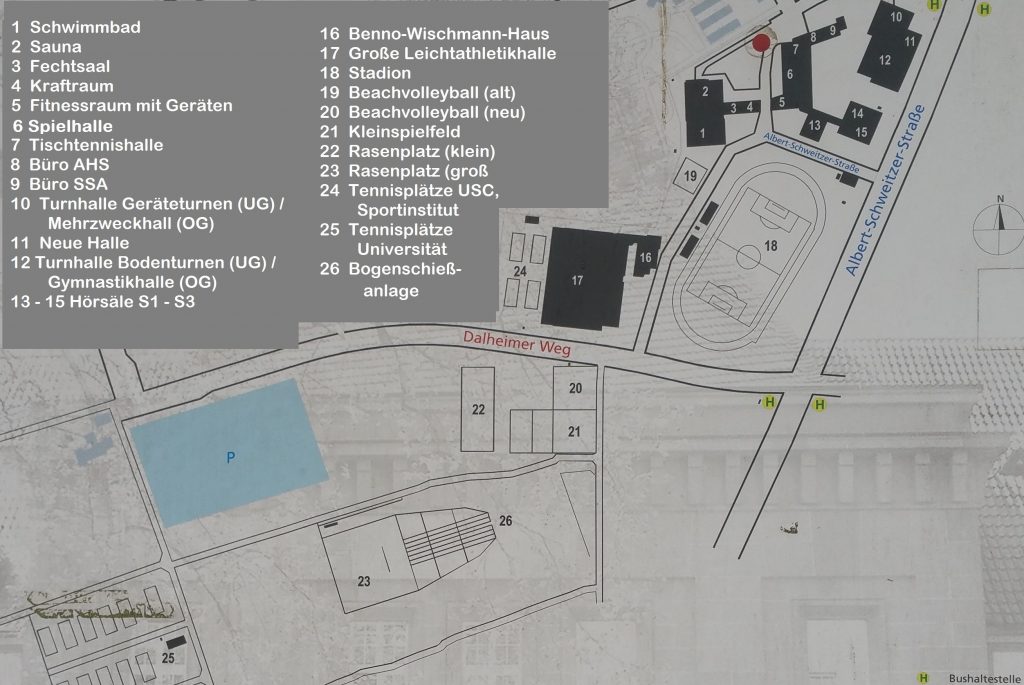 The sport facilities are located in the south-eastern part of campus.
Indoor Swimmingpool

To enter the indoor swimmingpool you will need to take the narrow path past the weight room (4 Kraftraum) and the fencing hall (3 Fechtsaal). The main path (indicated by the red line in the map below) is unfortunately unusable by wheelchair due to tree roots pushing the pushing the paving stones up from beneath.
The entrance is equipped with electronic door openers. The panel is on the right side of the doors.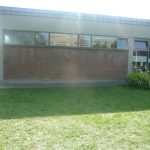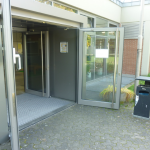 To gain entry to the swimming area, you will need the pool attendant to open a side entrance. They will gladly assist you.
To reach the pool you need to go through the changing rooms. As the cabins are too small for wheelchairs, there is the possibility to change in a larger room. There is one larger room for each gender. The pool attendants can unlock the doors for you.
While the toilets and showers are accessible, they are not specially equipped for wheelchair users.
For more information and assistance for your visist please contact the pool attendants.
Gyms 10, 11 and 12 (Turnhallen)
The gyms for apparatus gymnastics, floor gymnastics, multipurpose and the neu gym are unfortunately not accessible by wheelchair. You can access the buildings but the gyms are only accessible by stairs.
"Spielhalle", Table Tennis and Offices AHS / SSA
The entrance area is easila accessible by ramp. The first entrance to the right leads to the changing rooms and sport rooms, the second to the offices of the AHS / SSA. To reach the parking space for the disabled in front of this building you need to take the vehicle entrance to the sports area on Albert-Schweizer-Straße.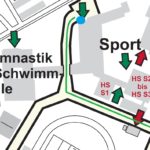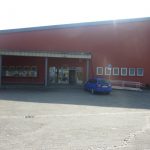 Ramp between the lecture halls and "Spielhalle"
There is a ramp inside the building complex that connects the lecture hall and administrative area with the "Spielhalle". Please be careful using this ramp as it is narrow and not equipped with railings.The "Spielhalle" can then be accessed through a wide door (seen in the picture below, the door straight ahead)
Measurements: width 1.5 m, length 2.5 m