Seminar Rooms
back to on campus orientation                                   back to menu bar
The seminar rooms in the GFG are located on the mezzanine levels protruding from the front of the building. You can directly reach them using the lifts. The first two numbers indicate the level. A tactile floor plan hangs on the walls across from the fully accessible lift on both levels.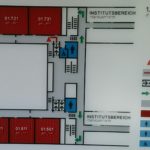 Each seminar room is fully accessible and equipped with accessible tables. The room signs are also written in tactile lettering.
PC-Pools / Media Rooms
The pc-pools are on the first mezzanine level (01-521 and 01-711). The rooms and workplaces are fully accessible.