Johann-Joachim-Becher-Weg
Building number 1321
back to on campus orientation                                   back to menu bar
Content
Campus Map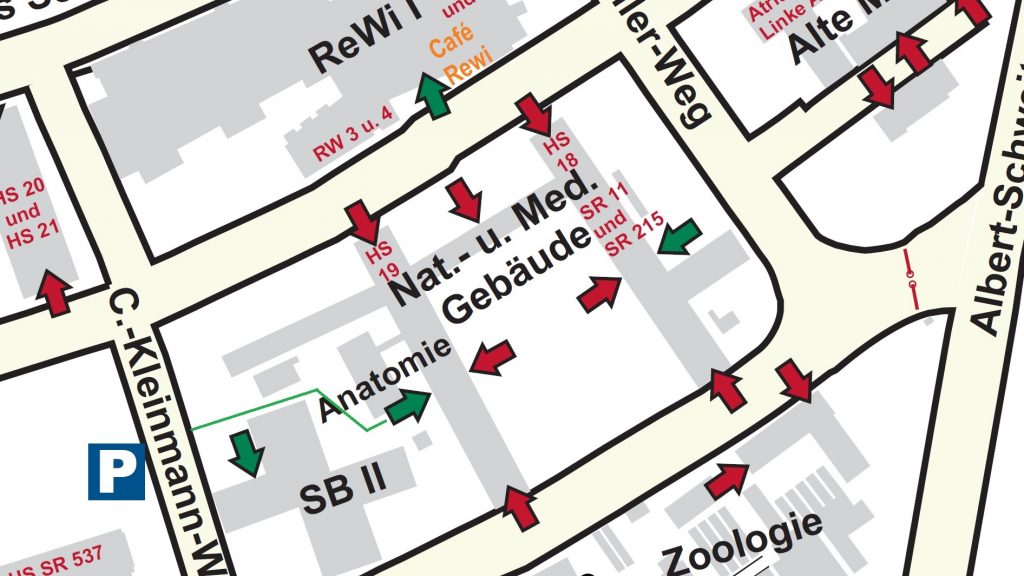 The Nat. – u. Med. Building is located in the eastern part of campus between the Old Mensa, ReWi I and Muschel / SB II. This building has limited accessibility. While most lecture halls and seminary rooms are fully accessible, the entrances to the offices have  2 – 3 cm high thresholds, none of the doors are equipped with electronic door openers and most are difficult to open.
Entry
This building has two ground level entrances. All others are inaccessible by wheelchair. One of the entrances is on Johannes-v.-Müller-Weg across from D.-Gresemund-Weg. An incline leads to a barred parking lot at the end of which is the entrance. The incline is very steep and hard to manage in a wheelchair. The door is difficult to move.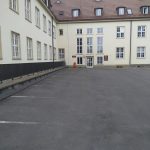 The other entarnce is accessible from Col.-Kleinmann-Weg. A narrow paved driveway leads off in front of SB II. Follow the driveway, cross the adjacent parking lot diagonally right, turn left and follow the paved way to the entrance. This door is also not equipped with an electronic door opener and difficult to move. Note: This wing is currently being redeveloped, thus this entrance might be barred at certain times. You can reach every part of the building from either entrance.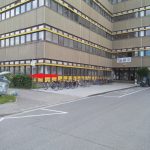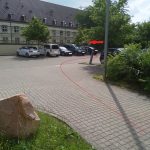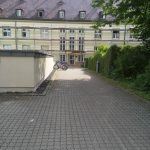 Lifts
This building has two lifts. Both are located directly by the accessible entrances. With them you can access every floor in the building and nearly every lecture hall. The lifts are wide enough for foldable wheelchairs and their control panels are easily accessible from a wheelchair. The buttons are equipped with braille.
Accessible Toilet
There is only one accessible toilet in this building. It is located on the 1 floor in the wing of the west entrance. When exiting the lift on this side of the building, turn left and follow the corridor. The toilet is on the right hand side of this corridor.
To reach it from the other side of the building, take the connecting corridor until you reach the staircase behind glass, turn left and follow the corridor. The toilet is then on the left hand side.
The toilet is equipped with two support handles, one of which is foldable. It has a pull-bar on the door and a foldable lounger. The basin and mirror are not adjustable. It is large enough to maneuver with a wheelchair.